CONNECTING TO OTHER MATERIALS
Equivalent Systems
The range of Pipe bores in the Halifax Soil and Drain system is designed to be compatible with any number of equivalent systems. The standard couplings within the Halifax Soil and Drain systems are suitable for connecting products of other materials into the system provided the external diameters are the same. (For example: A Plastic pipe with an O/D of 110mm could be joined to the 100mm Halifax Drain pipe (HD4001) with a 100mm Halifax Drain Ductile Iron Coupling (HD4012) because the outer diameter is the same.)
Conventional soil/drain systems
Halifax Soil and Drain are modern adaptations of a traditional Cast Iron waste system. Despite containing different jointing methods than would have originally been used, it is still possible to connect the new system into existing products using a traditional, caulked joint. This versatility allows the Halifax systems to be used where an upgrade is necessary thus saving money over alternative systems which would require a full replacement.
Threaded Connections
The Halifax Soil system threaded boss is designed to suit standard 2" BSPT threaded connections from plastic or copper pipe systems and provide a secure way of transitioning between smaller bore pipes of other materials.
These bossed connections are available either as blank ends, where the other system can join the start of the Halifax system or, female threaded boss pipes which allow waste pipe connections to be made by male iron adaptors. In both cases, the bossed fittings are connected to the main system using standard Halifax Soil Couplings.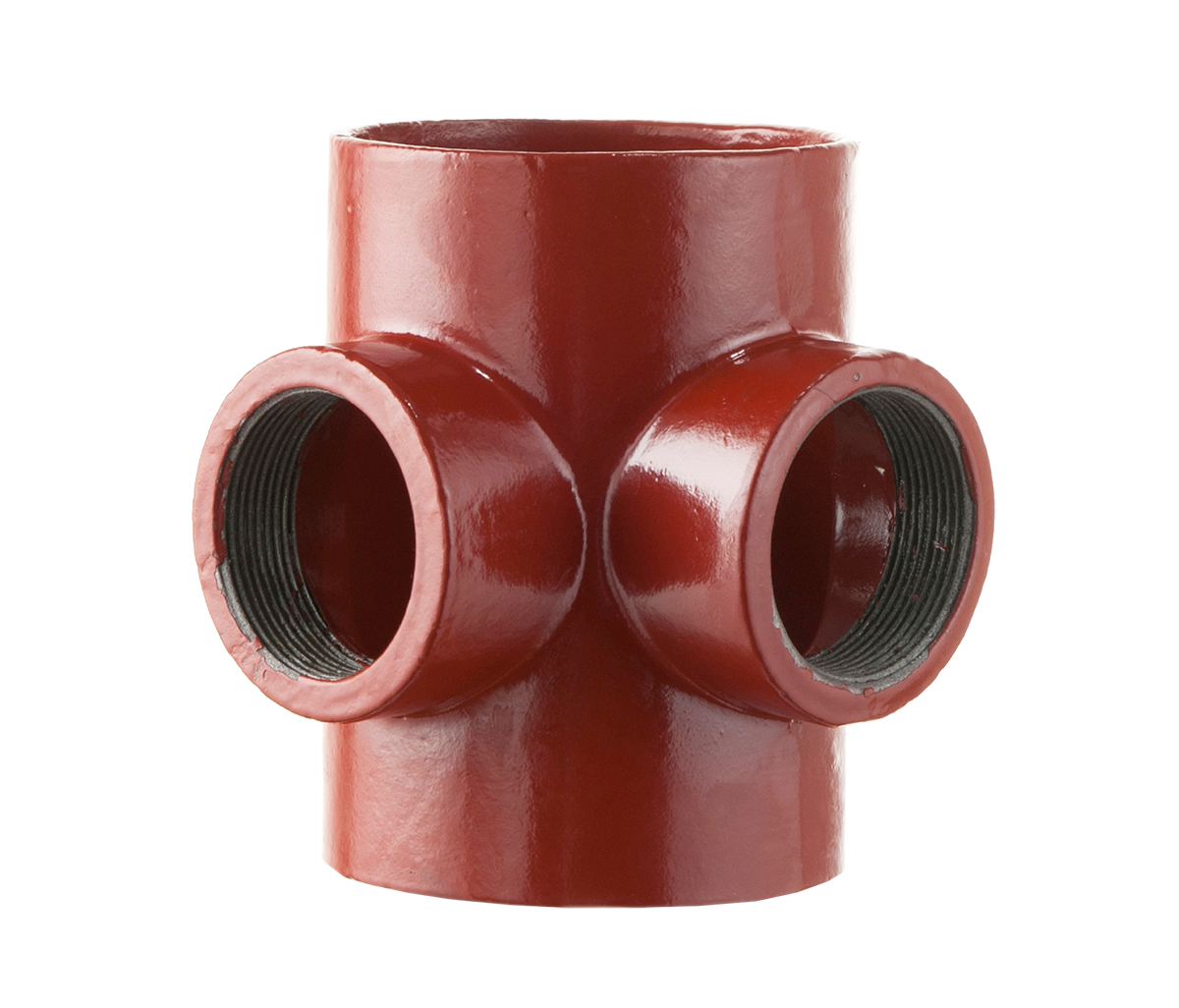 Compression-fit Boss
We have also developed a new user friendly compression-fit boss pipe which offers labour savings. These may be used with any 50mm plastic or copper waste pipe which can simply be pushed home and then the bolts on the front plate, tightened to form a water-tight seal. These are available in single, double opposed and double 90º versions.
Please note: when connecting 50mm Halifax cast iron waste pipes into 100mm Halifax soil pipework you will need to specify a 100 x 50 Branch (HS4020)
Ensure that each boss is complete with O-ring gasket, cover door & 2 x M8x25 ZP Hex Bolts
1. Loosen the bolts (but do not remove them and make sure that the gasket is not being compressed by the door.
2. Gently insert the plastic/copper pipe until it hits the register. Please see notes below:
a. The pipe must be inserted perpendicular to the face of the door
b. If too much pressure is applied to the pipe while being inserted, it will begin to compress the gasket and prevent complete insertion, a slight twisting motion may be necessary to complete the insertion
3. Bolts should be tightened until the gasket is gripping the plastic pipe and preventing it from being removed.
a. Caution: Do Not Over-Tighten.
Long Tail Boss Branch
To provide additional choice and options on site we can now provide a Long Tail Boss Branch (HS4059) with a total of 4 boss connections (2 each side). These bosses are 2" BSPT female thread designed to accept male iron adaptors for plastic or copper waste pipes.
Halifax Push-fit Connector
From time to time it may be necessary to connect pipes of smaller or non-standard dimensions into the Halifax system. In this case, a Rubber Halifax fix connector can be used to cater for the difference in pipe diameters. The Halifax Fix connectors are available for our 50, 70 and 100mm pipe sizes and each is capable of connecting to a range of smaller diameter pipes. For more information on the range of diameters to which the connector is suited, please speak to a member of our sales team.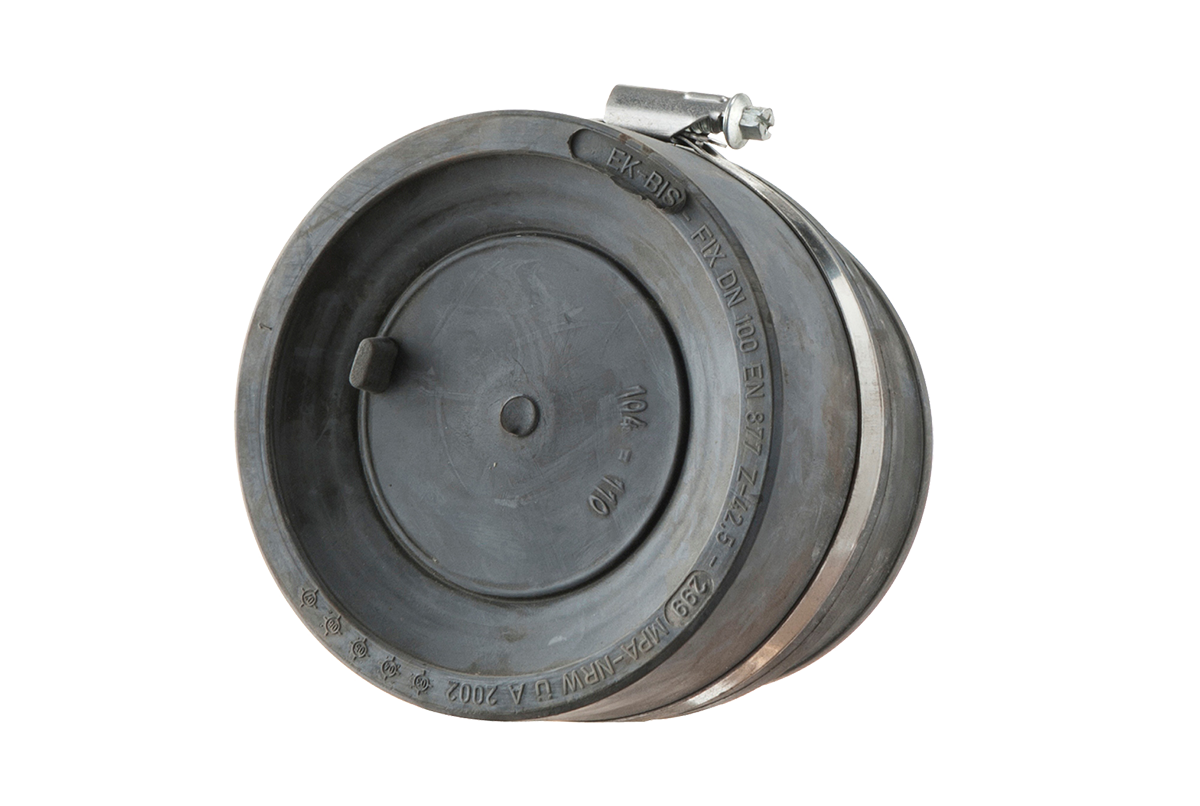 Halifax Manifold Connector
This multi-waste connector allows up to 3 waste pipes from various appliances e.g. sinks, basins and showers to be connected at a single internal point above finished floor level. The rubber grommets in the manifold connector may be cut to accept 32 & 40mm plastic or 35 and 42mm copper. The manifold body is connected to the stack by standard ductile iron couplings (HS4012) or stainless steel couplings (HS4002).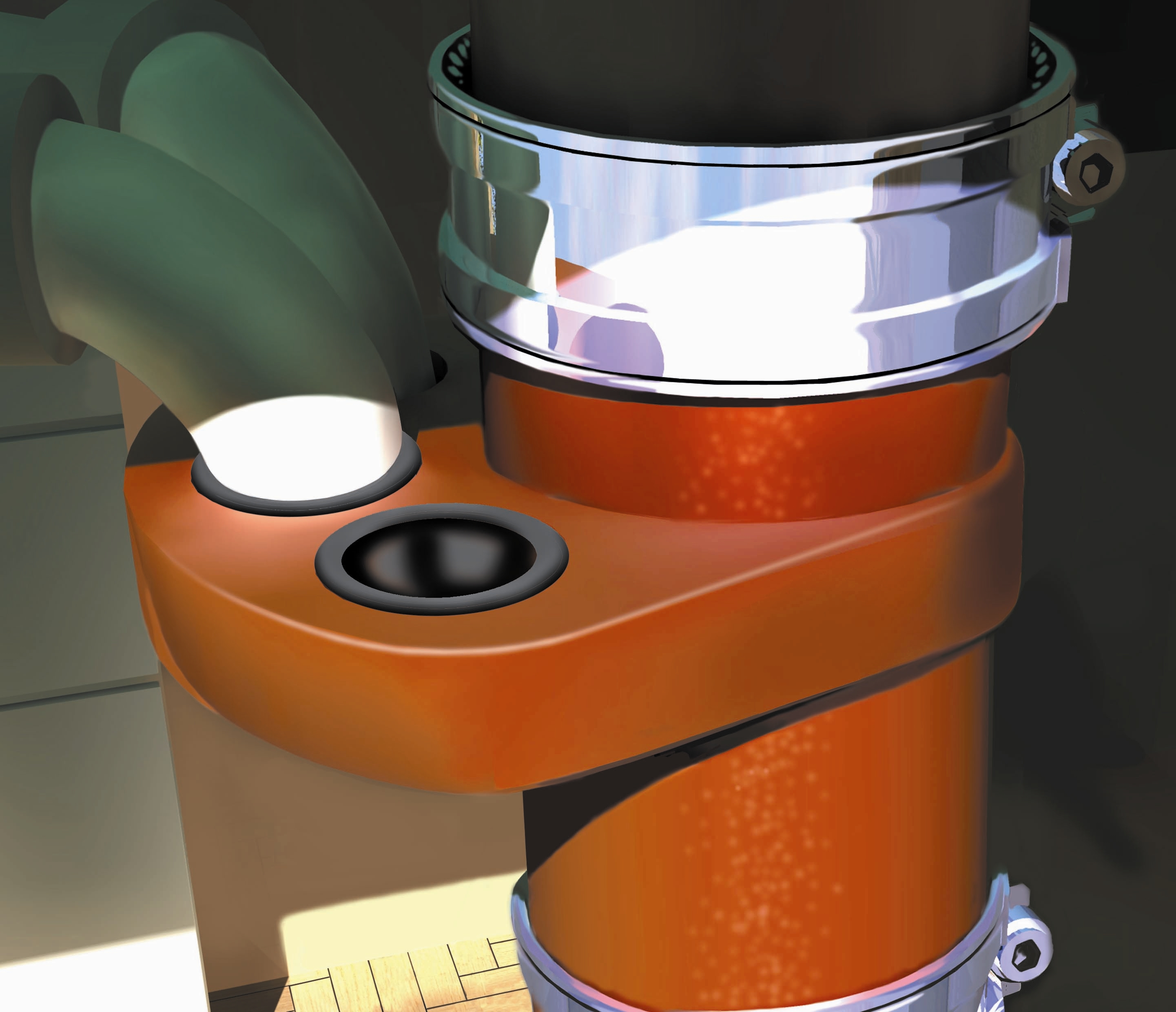 Fitting Instructions
1) Remove grommets and pierce appropriate size hole to suit waste pipe.
If any of the connections are not to be used save a grommet for blanking off.
2) Apply a small amount of silicone grease (not supplied) to the outside of grommets and re-fit into manifold. Ensure the grommet retaining groove is correctly located in the manifold casing.
3) Lubricate pipe ends before insertion into grommet with a rotational movement.
We recommend pipe ends are chamfered to ease assembly.
4) Any blank grommet must be fitted as point 2 above.
WC Connection
The Halifax system accepts Multikwik and similar push fit WC connectors – see illustration
PVC above ground soil systems
100mm Halifax to PVC use standard Ductile Iron Coupling (HS4012) or Stainless Steel Coupling (HS4002).
150mm Halifax to PVC use standard Ductile Iron Coupling (HS6012) or Stainless Steel Coupling (HS6002).
Conventional C.I. Soil/Drain
To connect Halifax into a conventional soil or drain socket use a traditional caulked joint.
Below Ground Clayware
Halifax can be connected to a clay or earthenware socket using a traditional cement joint.
When connecting to Supersleve/Hepsleve use the appropriate adaptor coupling by Hepworth.
Roof outlets / floor drains
In most cases our standard couplings will connect directly onto the majority of products available on the market, but if in doubt, contact us to check on compatibility.